Suggestion: Fix Price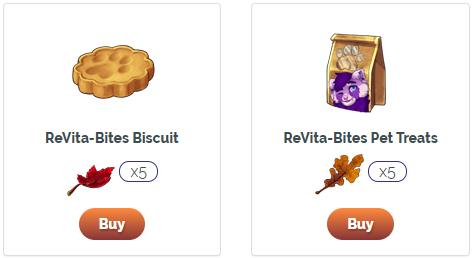 Currently the prices for the Revita-bites Biscuits and the Revita-bites Pet Treats are very out of wack.
The single biscuit costs 5 Maple Leaves (5 Uncommon Pets) while the Treats (a bag of 1-3 biscuits) costs about 10 times that (With leaf conversion) at 5 Oak Leaves (5 Rare Pets).
Currently it's a far better deal to just but the Single Biscuit since it's much less likely you'll get a Rare pet from breeding, collecting, etc.
(Conversion rates are 10 Maple leaves to 1 Oak Leaf at the
Cozy Cottage
)
Again, with Leaf Conversion that's a whole 10 times the price of the single biscuit for a chance of 1 to 3 biscuits. You can buy the bag and still only get 1 biscuit from it!
I'm suggesting that either the price be lowered for the Pet Treats or that the number of Pet Treats in the bag be raised to reflect the difference in value.
Former AnonFairy Existentialism (I was until people started making and releasing villagers with bad CSS... Ruin my fun why don't ya'll)