Paintie Rejected, but I sent screen shots?
Paintie Rejected, but I sent screen shots?
I included these screen shots that show the person made the paintie for me and said it was ok to upload, but it was rejected so I don't know what else I can include. Do the links of these screen shots work? When you copy and paste the link, they should take you to a page with the screen shot. I don't know how else to put them. Which email should I use to contact support about the paintie issue? Is it
[email protected]
or a different one?
https://1drv.ms/u/s!Aq7ZKrbj8sDhgw69bA67w7FMhMZx
https://1drv.ms/u/s!Aq7ZKrbj8sDhgw2o11omUVHuwX0B
https://1drv.ms/u/s!Aq7ZKrbj8sDhgzHMTTVO2P_SsRYB
https://1drv.ms/u/s!Aq7ZKrbj8sDhgzJaB03_o0F9lMKM
https://1drv.ms/u/s!Aq7ZKrbj8sDhgzMFFLyAA4t9jWVR
https://1drv.ms/u/s!Aq7ZKrbj8sDhgzBuslmXVm3ITBUM
Xanadu
what was the stated reason for rejection? From what I can see your uploaded paintie is using a texture/photo overlay to achieve the letter + worn wood appearance, which is not allowed (
see rule 8
).
If this is not the case- or if you have any other questions- I believe the email you should contact is
[email protected]
well what villager did you want to use it on?

oof, nvm, I saw the shifty named oujia
so yeah, probably was the texture thing
16 | ♂ | Arizona | -2 Furvilla Time | Certified Demon King
I thin its because its using assets (texture/fonts/images) and they need to know you have permission to use them. You should ask the artist if they made the assets themselves
They said it was a free to use font and textured brushes from Gimp, but everything else was handmade so I don't think it should be an issue. It wasn't like overlaid from a premade image or anything.
This Shifty might fall under copyright and/or trademark/ownership protections. Please provide proof that you are either the artist/creator or have permission to use the art provided from the artist. If you need to get permission from the artist, please include a conversation where the image is clearly visible as a link or image, and the artist states that they fully understand that you are uploading the image unaltered to the Furvilla and that it costs real money to do so.
That was the mod comment. Thanks. I'll email
[email protected]
Pardon the late reply.
I had this message before too with my Villager, Guardian.
One thing you could try while you wait for a reply is take screenshots of the messages or posts between you and the artist, showing proof of the purchase. And link the screenshots in the paintie comment section when you go to submit it.
That worked for me.
And since there's a possible issue with the font or texture, put that it's all free to use or handmade with the screenshots.
Just got out of the hospital. Have even more health issues to deal with now.
Be patient with me please.
I don't have to buy Painties, I can stop any time I want to. I don't have a problem!
""Ouija" was formerly a trademark belonging to Parker Brothers, and has subsequently become a trademark of Hasbro, Inc. in the United States"
I'd say its because Ouija boards are actually a Hasbro product.....
Profile pic by
pedroinboxfort
Xanadu
The issue you seem to be having is that you're trying to upload something that is entirely too close to copyrighted material.
Oujia boards and their layout, font, and design is entirely copyrighted by Hasbro. You'll probably not be able to upload the paintie at all without a lot of work being done to the image. The name Oujia and everything about it is copyrighted material. Even the shape of the planchette, also known as the 'eye' of the Oujia board, is also copyrighted to Hasbro.
Here's what the modern and copyrighted board looks like:
Here's another talker board/spirit board/spirit talker that isn't an Oujia brand board:
And another: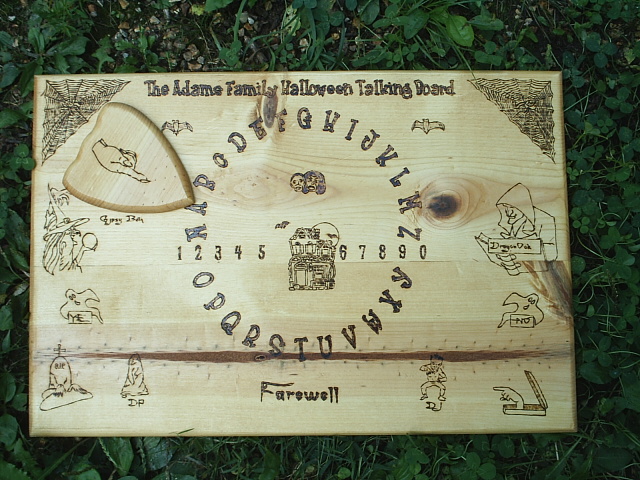 And yet another:
Notice the distinct differences. I realize that colloquially, "Oujia boards" have become the modern name for talker boards, even though there are tons of them out there, both home made and company made, but in actuality it's the same as calling all plastic toy bricks "Legos". You can make some plastic building bricks that aren't copyrighted, but as soon as you get too close to the look of Lego bricks, especially if you call them Lego bricks, then you'll get a copyright strike.
My suggestions are to, remove the image from the planchette, replace the font with a different font entirely, and to replace the planchette with a different shaped and colored planchette. Maybe, just maybe, it will pass then. It might be better to just avoid uploading it all together though. You can still put the character on something like Toyhou.se.
tinatiger101
But when a paintie with copyrighted material is paired with a copyrighted name, it becomes an issue. For instance, you could have a villager named Pikachu, but as soon as you try to upload a yellow mouse paintie with red cheeks and a lightning bold shaped tail, it becomes a problem, preventing you from being able to upload that paintie.
Yeah, they told me that it was because of the Ouija copyright. I didn't realize. I tried uploading it without the Ouija part, but didn't get a response yet. I don't really think the font or planchette should be copyrighted, but whatever if it gets rejected I guess. Thanks anyway for explaining.