Paintie Colours Help? + IC
Paintie Colours Help? + IC
Basically: I'm trying to make a paintie for my Mythic Fox(Moriko) but I'm honestly at a loss for what I want to do for colours?
Here's the lines + shading so far: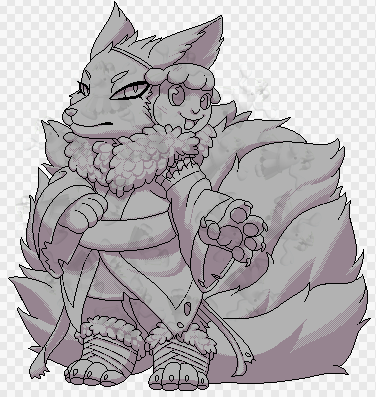 I'm thinking something green-based? since her name's forest-themed. Kinda want to stay away from a red/black colour scheme bc I already have a villager with that colour scheme
And also I'm wondering if people would want painties in this pixel format. I may just make a bunch of free bases for other people to use, but if there's a lot of interest I could also do customs, which would look like my active's current paintie.
Not sure when I'd open that or how I'd price it, but it's something I've been thinking about
So really if you have thoughts on one or both things I'd appreciate it <3
maybe this?
if it's MY forum, I'm subbed
Some colors that come to mind are dark desaturated greens, gold, and biege. for contrast maybe desaturated blue or a pale pink.
I'm always a biased to a bluish forest green paired with beige or gold accents, then it pairs with reds, whites, or blacks
I don't have any advice on the color scheme, but i'd definitely love some pixel painties!
maybe a leaf pattern on her coat/kimono and on her boots?
"I was always more focused on being a homicidal dumbass! :D"- Garnet
Icon by cr0ws
Garnet ⸸ They/He FV+1
I love plague doctors and creepy shit a lil too much-
I also like doing arts hehe check out my commissions or smthn
DM ME IF YOU DO CSS COMS PLEASE!!!