Villager: Valice
Villager Info
ID: #134228
Name: Valice
Gender: Male
Location: Dragonsmaw Manor
Born 4 years, 2 months ago
Career: Explorer
Owner: Valice
---
Species: Big Cat
Color: Lion
Buffs:
---
House: House has been destroyed.
Valice no longer has a house! They will be unable to work. Please replace the house or move Valice into a FC slot.
About
WARNING! DO NOT STEAL VALICE OR HIS ART, HE IS MY CHARACTER!
Done by the wonderful
CharcoalCrow
Valice, my very first OC and my personal one, he means a lot to me.
Born into the Leofang clan, Valice was blessed with magic that gave him the ability to manipulate fire. But the clan saw this as a threat and branded him as a fire demon before being banished by his father, the chief. Out of rage he burned a statue on the outskirts of the land melting its outer layer. Releasing a sealed beast named Fenris, a Frosthorn wolf that had long since been trapped. Together they became friends and roamed the land together.
Valice is a free loving trickster who enjoys a prank once in awhile, using his abilities to persuade people and con them into just about anything. But in the end, Fenris tends to level him out in his mischievous deeds.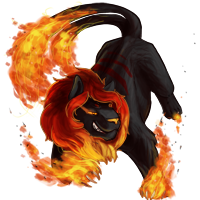 Comments
9