Villager: Stain
Villager Info
ID: #138055
Name: Stain
Location: Olde Foxbury
Born 4 years, 2 months ago
Career: Explorer
Owner: DragonDawn
---
Species: Dutch Angel Dragon
Color: Bay
Buffs:
---
House: House has been destroyed.
Stain no longer has a house! They will be unable to work. Please replace the house or move Stain into a FC slot.
About
Many thanks to Moreocat for the Dutch Angel Dragon morphing potion!
Huge thanks to
Pyon
for the amazing paintie!!
Stain loves to doodle on everything they see! Since their tail is an ink brush, things can get pretty messy sometimes; whenever Stain gets excited, they slap their tail on the ground, causing ink to fly everywhere! The ink evaporates within a couple minutes, though, so no permanent markings are left.
This Dutch Angel Dragon considers themself an artist. On their adventures, they'll often become distracted by the scenery around them and bring out one of their many canvases to paint. These art pieces are made in the ink wash style, and are signed with Stain's pawprint stamped in red ink.
Likes: Hoarding paint brushes, Bob Ross, fingerpainting with watercolors, giving and receiving art to/from loved ones
Dislikes: plain white objects (Very boring! Needs color!), making fun of art (especially if it's from a beginning artist!), their tail feathers being plucked (plucked feathers do not produce ink! Stop trying!)
Powers: Telekinesis and mending
Click here to see their reference sheet!
Click here to see their furry amino profile!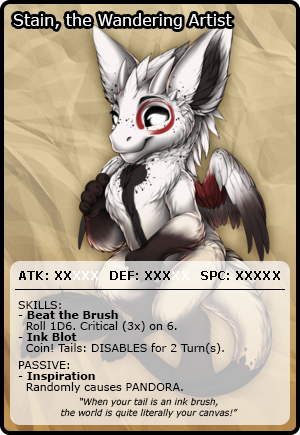 By: jakdacrowe!
By: Hatty!
By: Nachtigal1945!
By InfamousSpark!
By Corvoidea!
By Charingo!
Character was created by and belongs to me!
Comments
2