Villager: Lexi
Lexa
12

Villager Info
ID: #167609
Name: Lexi
Gender: Female
Location: Dragonsmaw Manor
Born 3 years, 9 months ago
Career: Animal Husbandry
Owner: Revel
---
Species: Dutch Angel Dragon
Color: Blue Roan
Buffs:
---
House: Dragonsmaw Manor House (27/250)
Paintie
Approved: 20 Apr 2017, 2:54 pm
Likes: 58 ♥
Lexi is infected with Zombipathy. Eating brains relieves symptoms for a time, but comes with memories of the brain's former life. Your doctor recommends adding hot sauce for extra flavor, but a Golden Apple a day will send the Zombipathy away.
Lexi
looks stunning!
Lexi
's very special treasures!
About
My furry Angel, hand reared from 2 weeks old, only 7yrs old when she passed away March 11th 2016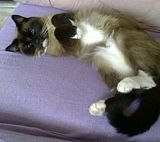 Art by
jackaloops
Beautiful Paintie by
Macbeth
- Larger size
http://i68.tinypic.com/5knfbb.jpg
Comments
5