Villager: Masked cat
Dox
346

Villager Info
ID: #204240
Name: Masked cat
Gender: Male
Location: Dragonsmaw Manor
Born 3 years, 5 months ago
Career: Explorer
Owner: queentyrunt
---
Species: Cat
Color: Chibi Calico
Buffs:
---
House: Dragonsmaw Manor House (534/1359)
Masked cat is infected with Vampirism. Symptoms include craving blood, sensitivity to sunlight, an allergy to garlic, and changing into a bat after especially forceful sneezes. If they start to sparkle, immediately consume a Golden Apple to cure the infection.
Masked cat
looks stunning!
Masked cat
's very special treasures!
About
× Masked cat ×
Kit |
---
Boy | Child | A... cat?
---
Playful | Curious | Naive | Easily influenced | Friendly | Mysterious
---
This cat keeps their mask on at all times. No one really knows what's underneath it either. Perhaps this little cat creature is just really shy? or maybe they're hiding something terrible beneath it. No one knows and no one dares to ask..

They're very mysterious in a way, as it's hard to tell how they're feeling, unless asked directly due to the mask they wear always having the same,
never changing expression.
Despite this, they are very friendly despite the old appearance. They love making friends and playing is literally their favorite thing to do. They also have a fascination with bells.

Although their curiosity tends to get the best of them at times but that's just part of growing up, right? Maybe they are just a regular ol' cat with a fascination for masks... but we'll never know, will we?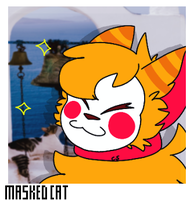 ---
Masked Cat's toyhouse
---
(If you comment IC and i will comment back IC)
(Art on profile in order: izaberuberadonna @ da)
(Paintie by me)
Comments
1