Villager: Kenny
Baroque
304

Villager Info
ID: #307043
Name: Kenny
Gender: Male
Location: Dragonsmaw Manor
Born 1 year, 7 months ago
Career: Explorer
Owner: queentyrunt
---
Species: Fox
Color: Chibi Red
Buffs:
---
House: Dragonsmaw Manor House (1/198)
Kenny is infected with Vampirism. Symptoms include craving blood, sensitivity to sunlight, an allergy to garlic, and changing into a bat after especially forceful sneezes. If they start to sparkle, immediately consume a Golden Apple to cure the infection.
Kenny
looks stunning!
Kenny
's very special treasures!
About
× Kenny ×

Male | Adult | Hoofed fox monster

Sassy | Seemingly innocent | Manipulative | Unpredictable | Mischievous | Cunning | Needlessly crude | Sing-songy | Mysterious | Fickle | Teasing

---
× why should I have to abide by your rules? I choose my own path in life, whether you agree with it or not~ ×
---
× a very mysterious individual who doesn't give away much about himself. He loves to give someone false hope and tease or poke at people, all while hiding under a seemingly innocent smile.
he may seem like a kind hearted soul but secretly, he lacks morals and has no problem with making up lies to get others hurt for fun or pretending to "help" someone in need, only to purposely double cross them
--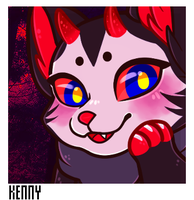 Kenny's toyhouse
(If you comment IC and i will comment back IC)
---
(Art on profile in order: none atm
(paintie by
Ornstein
)
(art by @SherryDeer)
Comments
2