Villager: Hallowhazard
Jackie
30

Villager Info
ID: #42606
Name: Hallowhazard
Gender: Genderless
Location: Quetzal Palace
Born 4 years, 6 days ago
Career: Animal Husbandry
Owner: Jinx
---
Species: Dutch Angel Dragon
Color: Bay
Buffs:
---
House: FurCash House
Hallowhazard
's very special treasures!
About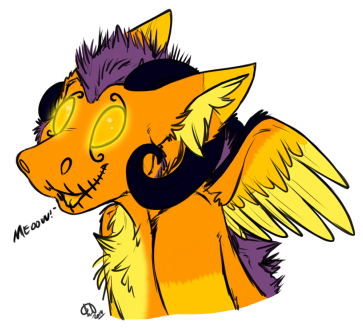 A Dutch Angel Dragon bounds up to you with minipets hanging off their ears and wings, meowing in greeting as her tail wags behind her. Around her neck is a black collar with a pumpkin pendant. If you were to check the back of it, you'd see the initials 'H.H.' and under it, the halloween-themed DAD's name;
Hallowhazard
Hallowhazard is a mischievous and playful DAD, with more cat-like mannerisms than anything, to a point that she will purr when happy and randomly 'meow' and 'mew' at things that take her interest. She will also hiss at anything she doesn't like or when threatened. She is very lovable and friendly though, and usually willing for hugs and nuzzles for anyone who asks for them.
Other info:
- The hazard marking is only present on her left thigh.
- Her eyes do glow!
- She very much enjoys pranking others, particularly jump scare pranks.
- Favorite holiday is, of course, Halloween.
- The best way to make friends with her is offering her cookies/biscuits. Especially Jaffa Cakes.
Background from
here
Comments
59