Villager: Ixkin
Villager Info
ID: #21562
Name: Ixkin
Gender: Unspecified
Location: Tigereye Peak
Born 4 years, 2 months ago
Career: Explorer
Owner: Malis
---
Genus: Shifty
Color: Midnight
Buffs:
---
House: FurCash House
Ixkin
looks stunning!
Ixkin
's very special treasure!
About
Note: Ix'kin was originally an Aarakocra from D&D. When the Highborn Arakkoa came out I designed a cosplay of Ix'kin inspired by the Arakkoan culture of Draenor for Blizzcon 2015. This character of Ix'kin is a hybrid of my original D&D character and the costume I created. I have re-imagined them into many different worlds and now I am pleased to see them in the world of Furvilla as an NPC!
Official art: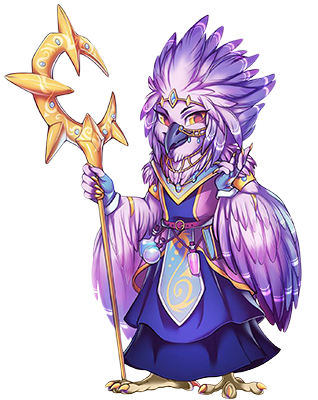 The Enigmatic Researcher
"Shadows gather when the raven swallows the sun."
Name:
Dawnseeker Ix'kin
Nicknames:
Bird, Izix, Izzy
Gender:
Unknown (Possibly female, doesn't really care)
Associations:
Malis, (kinda: Rynn and Gyosha)
Song:
Lucky
by Aurora
Skills:
Explorer, Crafter - Tiger's Eye Blueprints only
For more costume photos:
Arakkoa Cosplay
Special possessions
A necklace from their hatchmate, Kresek. They also keep many scrolls and tomes of their observations and other findings. Ix'kin is largely into alchemy and this has a rather extensive collection of herbs, dried or fresh, and other ingredients that can be used to distill potions and salves. It is good to note that each recipe has been carefully logged into Ix'kin's ledger in case it is needed again in the future.
Personality
Blunt and sharp to a fault, Ix'kin first comes across as being very brusque. If you happen to catch them talking about their favorite subjects, however, their demeanor changes quite a bit and they can be positively patient and inclusive in both tone and action. Their greatest weakness is information. If you promise to pay them in secrets you'll almost always get an agreement from them. However, if you withhold said information at a later date, be prepared to face great wrath. They also enjoy learning about other cultures and different lore. They keep a record of every story they have come across which they add to on a frequent basis.
History
Dawnseeker Ix'kin was the hatchmate of Blade-dancer Kresak. Each pair of Arakkoa kept each other in check. However, much to the chagrin of Ix'kin, Kresak was very curious and often asked the wrong kinds of questions. While they were both smart enough not to be found out, Kresak always seemed to toe the line which Ix'kin disapproved of greatly. Eventually, Kresak was caught in the wrong place at the wrong time and Ix'kin was told to rip off the wings of their hatch-mate. They found themselves unable to do so and instead grabbed Kresak and tried to escape. the Blade-dancer sacrificed themselves to keep Ix'kin from getting caught and they ended up joining the Order of the Awakened. They lost track of Kresak and believe that they didn't make it. After mourning for their hatch-mate, Ix'kin found a new home and started rebuilding their library. For now they attempt to piece together the true history in the hopes to find a way to regain favor and return to their home once again.
Paint by
WafflePaw
Comments
20