Villager: Shosuke
Malika
146

Villager Info
ID: #338771
Name: Shosuke
Gender: Male
Location: Olde Foxbury
Born 10 months, 27 days ago
Career: Explorer
Owner: Necroam
---
Species: Canine
Color: Shetland Sheepdog
Buffs:
---
House: Olde Foxbury House (157/237)
About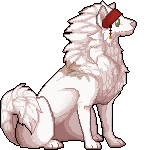 Shosuke
He/Him | Dire Wolf Hybrid | Leo
"Oh... What do we have here? I rarely get visitors nowadays, but what can I do for you?"
[...]
"I see..."
[...]
"As much as I enjoy our LOVELY chat, may I ask from what village you come from?"
"Was that too upfront on my part? Sorry. Point taken."
[...]
"Mind talking about it over some drinks?"
"W-What? Oh I swear I'll pay you back next time we see each other!"
and you never saw each other again so go hunt his butt down
General Info
Shosuke is known as a relaxed yet fairly disobedient guy. By default, he is indeed a very friendly fellow but his loyalty is often questioned by those that rarely speak to him, and it's often up to the relationship itself to decide his next move. At some moments he may appear as defensive and even evasive on certain topics that relate to his personal life, but despite this if encountered on a nice day, he'll probably be up for hanging out.
,If found randomly, he is more than likely to either be seen sleeping outside or hanging around his pets or plants. Or stealing but we don't talk about it.
Weirdly enough, he has a fear of the water.
______
Paintie made by
Necroam
Shosuke/Shou ©
Necroam
Any Art on this box was made by myself
Trophies
Comments
3