Villager: Shosuke
Malika
37
Villager Info
ID: #338771
Name: Shosuke
Gender: Male
Location: Olde Foxbury
Born 4 months, 2 hours ago
Career: Explorer
Owner: Necroam
---
Species: Canine
Color: Shetland Sheepdog
Buffs:
---
House: Olde Foxbury House (1/50)
About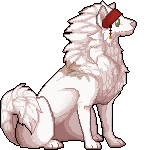 Shosuke
Male | Tokota [Dire Wolf/Bear] | Leo | Bisexual
"Oh... What do we have here? I rarely get visitors nowadays, but what can I do for you?"
[...]
"I see..."
[...]
"As much as I enjoy our LOVELY chat, may I ask from what village you come from?"
"Was that to upfront on my part? Sorry. Point taken."
[...]
"Mind talking about it over some drinks?"
"W-What? Oh I swear I'll pay you back next time we see each other!"
General Info
Outgoing yet calm and reserved when needed. Despite having a past filled with a loving parent, it didn't take long before he turned to the streets for more of a life of work and thievery on the side. More often than not, Shosuke talks with the mind of a realist or at least prefers to finish whatever quest he started. He can be impatient in times of need, but remains caring and loving when the time to relax comes.
Paintie made by
Necroam
Shosuke/Shou ©
Necroam
Any Art on this box was made by myself
Comments
0