Villager: Terran
Adrial
1186

Villager Info
ID: #105835
Name: Terran
Gender: Male
Location: Dragonsmaw Manor
Born 4 years, 10 months ago
Career: Explorer
Owner: Fowlgon
---
Species: Dragon
Color: Mythic
Costume: Mythic
Buffs:
---
House: FurCash House
Paintie
Approved: 10 Jan 2017, 1:48 am
Likes: 110 ♥
Terran
looks stunning!
About
Taking on the mantle of Asclepius, the demigod of healing, Terran always has work to do. Widely known as Fowlgon because he is a hybrid of fox, owl and dragon. He holds the Asclepian Staff and the snake's name is Adrial.
Base © Kiwiggle & Furvilla
Character © Fowlgon
Paintie Background © Akitary
Paintie © Fowlgon & Furvilla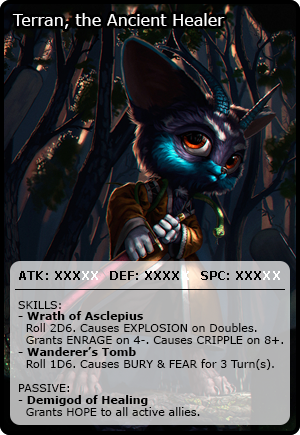 Check out the Free Attack Cards by
jakdacrowe
Comments
53