Villager: Hamichu
201

Villager Info
ID: #117018
Name: Hamichu
Gender: Female
Location: Dragonsmaw Manor
Born 5 years, 11 months ago
Career: Warrior
Owner: Hamichu
Feast Points: 0 (22469 All-Time)
---
Genus: Shifty
Species: Hamster hybrid creature
Color: Winter
Costume: Beast
Buffs:
---
House: FurCoin House
Hamichu is infected with Zombipathy. Eating brains relieves symptoms for a time, but comes with memories of the brain's former life. Your doctor recommends adding hot sauce for extra flavor, but a Golden Apple a day will send the Zombipathy away.
Hamichu
looks stunning!
Hamichu
's very special treasures!
About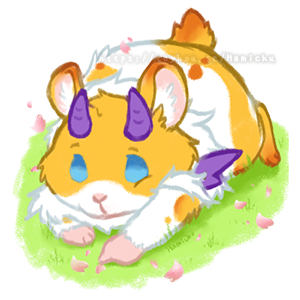 Blossoms from your heart ❤️
---
Doodle by me
---
Hamichu is a little bundle of joy among her friends.
You rarely see her looking sad,
but she is absolutely not the energetic type.
She likes naps and loves to bury herself into all kinds of soft things (blankets, pillows, cushions, or even fluffy plushies).
Sweet jiggly treats like pudding, jelly, or gummies are her favorite food. She keeps a fridge full of those.
---
This character is basically my fursona, a hamster hybrid creature I made. The design was based on my personality and how I look irl. (Yes, you'd never thought of anyone would look so much like an actual hamster)
The crystallize spike on the neck represents the physical sickness of mine. There are some skin issues on my left neck
( I have no idea why it only happens at that particular spot :-/).
It gives me a lot of itch and pain. But the funny thing is the gauze on my neck has become a part of my characteristic.[/size]
《My toyhouse》
-Summer & Halloween paintie by
HURRiCANE
-Lunar New Year Paintie by
GEN.
-Spring & Festive & Zombie Paintie by
Zhan Bee
-Autumn paintie by
MouseDoll
-Cozy paintie by
圈圈
-Surfing paintie by
basket
-Jelly paintie by
Silverfox
-Pride paintie by me
Trophies
Comments
58