Villager: Nkosazana
Tau
724

Villager Info
ID: #121836
Name: Nkosazana
Gender: Female
Location: Tigereye Peak
Born 5 years, 6 months ago
Career: Construction Worker
Owner: Acheron
---
Species: Horse
Color: Beast
Costume: Beast
Buffs:
---
House: FurCoin House
About
Nkosazana, female, she/her, carpenterOrigin: Tigereye Peak
Soft-spoken and intelligent, who has been known to take down quite a few monsters with her combat skills. Has a crush on Njáll Naglfar.
Construction, Warrior and part-time Alchemist
If you are wondering, a Zebra in the Arctic. Nkosazana, Nkosa for friends, is a carpenter on peregrination.She became fast friends with Layette and decided to stay in this harsh, icy place. She soon came to love not only the other member of this closeknitt clan but this rugged region too.
Name
: Nkosazana
Nickname
: Nkosa
Sex
: Female
Race
: Zebra
Current status
: Single
Birth date
: ???
Occupation
: Construction, Warrior and part-time Alchemist
Hobbies/Pastimes
: she likes to work with wood
Likes
: Njáll
Dislikes
: being lied to
Favorite Color
: Green, yellow and orange. (She wouldn't make up her mind.)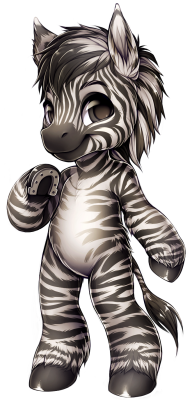 Pantie made by
FluffyIceDragon
Comments
1