Villager: Rodney
Luggage
339

Villager Info
ID: #149222
Name: Rodney
Gender: Male
Location: Oceandome
Born 6 years, 20 days ago
Career: Construction Worker
Owner: Polymathema
Feast Points: 0 (7812 All-Time)
---
Species: Bat
Color: Golden Crowned
Buffs:
---
House: Oceandome House (127/1476)
Paintie
Approved: 23 Jul 2016, 9:43 pm
Likes: 339 ♥
Rodney is infected with Vampirism. Symptoms include craving blood, sensitivity to sunlight, an allergy to garlic, and changing into a bat after especially forceful sneezes. If they start to sparkle, immediately consume a Golden Apple to cure the infection.
Rodney
looks stunning!
Rodney
's very special treasures!
About
The Contractor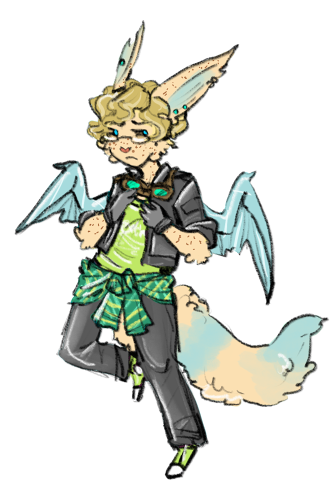 Aerith Rodney "Muffin" McCorry

♫ The Mountain Goats - Heel Turn 2 ♫
Super anxiety prone bat-raccoon thing with a focus on the hard sciences. (Carpenter is the closest thing to astrophysicist or engineer soooo.)
Rodney likes really big bathtubs, bed-nests, caffeine, deep water, fixing things, and when people listen to him.
Handling all of the repairs of the floating city-island Nouveua Atlantis alongside his sister-friend Meredyyd, Rodney keeps the floating pile of rubbage and scavenged parts from falling apart or floating away or sinking into the deeps and hitting up against Oceandome. Having to withstand the attention of other pirates, hurricanes, and whirlpools caused by the Great Serpents, their work is never ending to keep the city together.
Coming from parts far away, Rodney is one of the many demographics making up the small artificial island and can most often be found rushing somewhere with his tools shouting for people to get out of his way.
He is flightless due to an accident and his wings act more as stabilizing counterweights or very large claw-hands. Hypoglycemic so if you have snacks he will likely follow you around.
(background
here)
Trophies
Comments
71