Villager: Kunama
Kiki
31

Villager Info
ID: #150815
Name: Kunama
Gender: Female
Location: Quetzal Palace
Born 5 years, 4 months ago
Career: Herbalist
Owner: Nhotemau
---
Species: Mustelid
Color: White
Buffs:
---
House: Quetzal Palace House (124/124)
Kunama
looks stunning!
Kunama
's very special treasures!
About
Nicknames: Nami.
Personality: Sweet, quirky, fiery.
Gender: Female
Accent: Distinctly Jamaican.
Quirks: Tentacle skirt draping it's tentacles over everything.
Species: Jefott...A tribe of Otters who moved near the sea centuries ago and take on certain features of jellyfish!
Age: Sixteen.
Orientation: Unsure yet.
Significant Others: Kiki. Nanuq, whom she has major feelings for, and Pepsi her friends.
Enemies: Apart from the sea?
Possessions: Random flotsam and jetsam she picks up.
Skills: Swimming and ocean magic.
Likes: Jellyfish, swimming, summer, ice cream.
Dislikes: Being too hot or dry, being cold, being hungry...xD
History: Kunama was betrothed to a hateful warrior, she ran away from her tribe. Despite that, she is very happy where she is now!
.
Time passes, people move...Like a river's flow, it never ends.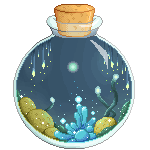 A transcript of a conversation between herself and Nanuq.
Nanuq and his team mates are working on a building, the shell of which they are currently inside. Kunama wanders through, looking for Nanuq. The tentacles of her dress get caught and pull something down, Kunama whirls round to see Nanuq, giving an apologetic smile.
Kunama: "Oh! I'm so sorry Nanuq! Bad tentacles!"
*Slaps tentacles jokingly.*
Nanuq: "No harm done. Whats the occasion?"
Kunama: "Do I need a reason to visit my best friend?!"
Nanuq: "I guess not!"
*Smirking.*
Kunama: "Do you want to get lunch?"
Nanuq: "Sure! I finish for lunch in about an hour, I'll meet you."
Kunama: "Great!"
*Smiling sweetly.*
Oxford is wandering through, she smiles, waves and says hi to Kunama, Kunama frowns.
Nanuq: "What's wrong?"
Kunama: "Oh nothing...I guess I just get a bit jealous is all."
Nanuq: "Jealous?! Of what?"
Kunama: "Your work."
Nanuq: "I don't think being a crafter would really be your thing...would it?"
Kunama: "Not your job! Your team! They get to spend all day with you...and...and I get...lunch."
*Looking miserable.*
Nanuq: "We can get dinner instead?"
*Looking thoroughly perplexed.*
Kunama: "Look...all I'm saying is I don't see you all that much. I'll meet you at lunchtime ok?"
*Stalks off, visibly frustrated.*
Oxford: "You really need to get a clue pal!"
Nanuq looks at her worriedly, shrugs and returns to his work.
Comments
3