Villager: Jackdaw
Hydra
34

Villager Info
ID: #153296
Name: Jackdaw
Gender: Male
Location: Quetzal Palace
Born 5 years, 6 months ago
Career: Warrior
Owner: Nhotemau
---
Species: Fox
Color: Bat Eared
Buffs:
---
House: Quetzal Palace House (134/134)
Jackdaw
looks stunning!
Jackdaw
's very special treasures!
About
Nicknames: Jack, thief prince, JD, Jackwad.
Personality: Trickster, sarcastic, smart ass, intelligent, far too clever for his own good, impish, witty, mischievous, greedy, lazy, irresponsible.
Gender: Male.
Accent: Drawling.
Species: Fox.
Age: Nineteen years.
Orientation: Pansexual.
Significant Others: Hydra his mate.
Enemies: Not really, if he does anything bad, he make's quite sure he's never caught.
Possessions: A lot of shiny stuff, though he tends to sell it a lot to support his growing family.
Skills: Lock picking, pick pocketing, acrobatics.
Weaknesses: SHINIES, his wings tend to get a bit in the way along with his responsibilities!
Likes: Did I mention shiny stuff? Winter, frosty mornings, fresh rabbit, lazing around, playing with his daughters.
Dislikes: Fighting, stupid...just stupid, wasting his time on anything he finds pointless.
History: Jackdaw is born high prince of his kind. But he never tells anyone and spends his time avoiding his responsibilities and in denial. He was much the same when he first discovered feelings for Hydra. But that all changed after the birth of their first daughter.
Based on my favourite Aywas custom;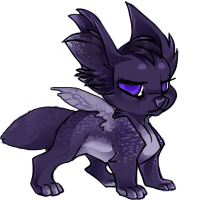 Comments
2