Villager: Sébastian
Layne
0

Villager Info
ID: #273742
Name: Sébastian
Gender: Male
Location: Dragonsmaw Manor
Born 4 years, 8 months ago
Career: Warrior
Owner: willing-infamy
Feast Points: 0 (162 All-Time)
---
Species: Lizard
Color: Chibi Rogue
Buffs:
---
House: FurCoin House
Sébastian is infected with Lycanthropy. Changes into a beastly monster after exposure to moonlight or especially frustrating board games. Howling at the moon relieves the symptoms for a little while, but use a Golden Apple for best results.
Sébastian
's very special treasures!
About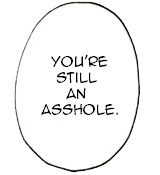 'D'abord tu meurs, puis tu rêves. Et bébé, je suis un rêveur.'
Sébastian Salyer
seh-bass-tee-uhn

Name: Sébastian Salyer

Species: Human

Gender: Male

Age: 17

Alignment: Chaotic Neutral / Evil

Height: 6'3

Build: Ectomorph


Personality

Perverse, sensual, quarrelsome, and a little colorful. Is very serious and uptight. He doesn't care about the well being of anyone. He doesn't like sarcasm, despite fluently speaking it, and hates when he isn't taken seriously. Sébastian is far too confident for his own good. So much, that it often makes him look stupid later on. He doesn't care though. He's very hot headed as well, and starts things he knows he can't finish for the hell of it. That's where his wits come in handy though, because for any insult you throw at him, he throws two back. Is extremely flirty.


Likes

Intelligent Conversations
Imperfection
Flirting
Drinking


LF items to be complete:
Cat
,
Dragon's Suit
.
Comments
0