Villager: nifl
40

Villager Info
ID: #117513
Name: nifl
Gender: Male
Location: Quetzal Palace
Born 5 years, 4 months ago
Career: Explorer
Owner: dedenne
---
Genus: Shifty
Color: Chibi Midnight
Costume: Lion Warrior
Buffs:
---
House: Quetzal Palace House (32/250)
Paintie
Approved: 17 Aug 2019, 10:27 pm
Likes: 173 ♥
nifl is infected with Lycanthropy. Changes into a beastly monster after exposure to moonlight or especially frustrating board games. Howling at the moon relieves the symptoms for a little while, but use a Golden Apple for best results.
nifl
's very special treasure!
About
demon hunter of the north and newly-turned werewolf. fiercely guards the pelt around his shoulders.
(at first, it was a death sentence, but he soon found comfort in his new skin.)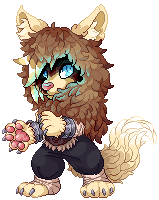 paintie by me
uuuuuuuuughhhhhhhh ill edit his css later
Comments
12