Villager: Naoki
Cinnamon
263

Villager Info
ID: #232514
Name: Naoki
Gender: Male
Location: Tigereye Peak
Born 4 years, 6 months ago
Career: Explorer
Owner: Tymora
Feast Points: 0 (1186 All-Time)
---
Genus: Shifty
Color: Midnight
Buffs:
---
House: Dragonsmaw Manor House (101/101)
Naoki
looks stunning!
About
CallistoCorona
lunarlicorice
ScarletNekolita
Uzucake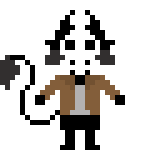 @WintersLullaby
Art by AzuelZorro102
The Shepherd. A protective male spirit, the emodiment of a pear tree. Its origin is a complete mystery. It has earned its moniker through its tendency to lead vulnerable souls out of danger. Although, it is also rumoured to be somewhat malevolent and not entirely trustworthy. Some believe that it was once called upon to ward off the undead and to protect sacred spaces. Others believe that it is a mononoke, manifested in the wake of grief. Perhaps its tree was killed, and so now it wanders in search of a new sanctuary. It will accept offerings of incense, sweet food and cider. Its purpose has since been compromised by its desire to spend time with the living.
It identifies itself as 'Naoki', an ancient springtime being.
Known for his mysterious ways and arbitrary disposition, Naoki is feared as much as he is venerated by the few who know of his existence. He can most often be found in rural areas where nature is in abundance. In the warmer seasons, wildflowers bloom along his wooden arms, woven from branches. Naturally, he prefers green, wooded areas to rural surroundings. It's no secret that Naoki is a lover of confections, seeing as sugar has no negative effects on his body. There is a question as to how he manages to eat, however... What do his clothes hide, what snarls, occasionally, beneath his breast?
Art by Teatime
Paintie by
Teatime