Villager: Nebula
INTERGALACTIC PLANETARY
32

Villager Info
ID: #37890
Name: Nebula
Gender: Male
Location: Dragonsmaw Manor
Born 4 years, 7 months ago
Career: Explorer
Owner: Beyond
---
Species: Dragon
Color: Black
Buffs:
---
House: FurCash House
Paintie
Approved: 6 Jul 2016, 8:36 pm
Likes: 70 ♥
About
By
Hatty
He flew through galaxies and stars. Now he is a sparkly little dragon.
Attitude: Loves to explore, always happy to see people, cheery, somewhat protective of loved ones, calm.
Likes: Exploring outer space, riding shooting stars, and eating the Milky Way
Dislikes: Getting hit by asteroids.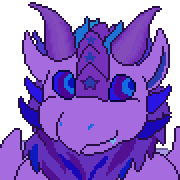 by
atheris
By
kroevolkture
YES THIS IS MY FIRST AND ONLY PAINTIE IV'E DONE, IT SUCKSSSSS.
Trophies
Comments
16