Villager: Starburst
Starshine
29

Villager Info
ID: #232485
Name: Starburst
Gender: Male
Location: Quetzal Palace
Born 4 years, 9 months ago
Career: None
Owner: Nhotemau
---
Species: Gecko
Color: Crested
Buffs:
---
House: Quetzal Palace House (110/110)
Paintie
Approved: 9 Mar 2018, 3:28 am
Likes: 28 ♥
Starburst
looks stunning!
Starburst
's very special treasures!
About
Nicknames: Star.
Personality: Outgoing, friendly, wacky.
Gender: Male.
Accent: Squeaky.
Quirks: Tends to fall or trip a lot.
Species: Cloud Gecko.
Age: 20.
Orientation: Straight.
Significant Others: His pet Starshine. He likes everyone and tries to make friends with the whole village.
Enemies: Who would?!
Possessions: None really.
Skills: Very acrobatic and nubile, super fast.
Career: Weather control mostly.
Weaknesses: Iron can hurt him and strong dark magic.
Likes: Food, sleep, all the good stuff.
Dislikes: Sudden sounds or movements.
History: Not much to tell, Temmie has known him his whole life and has always protected and looked out for him.
When it rains, look for rainbows. When it's dark, look for stars.
.
.
.
Based off my baby: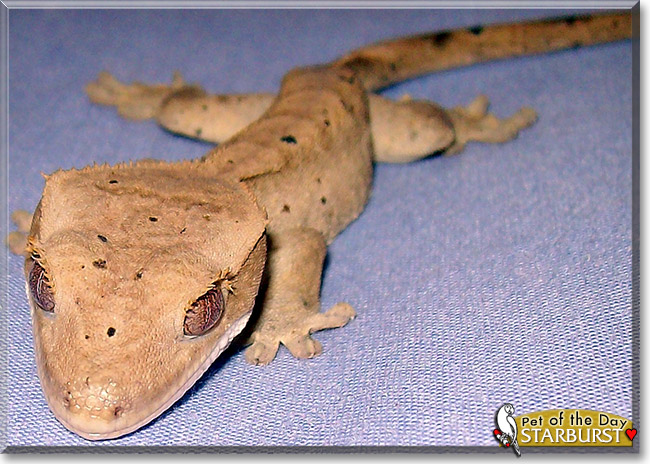 Comments
1