Viewing neonpine's Profile
User ID:
#3129
Username:
neonpine
Gender:
Non-Binary
Last Online:
8 Aug 2021, 12:18 pm
Registered:
1 Jul 2016, 12:54 pm
Profile description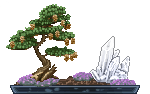 "I move slow and steady,
but I feel like a waterfall."
Pine • 20 • they/them • Oregon (-2 FV time)
twitter
•
tumblr
•
FR
I'm an art major in college and very furry. Don't be afraid to message me if you want to chat! I'm trying to get back into this site and it feels so... lonely.
A message to mods: Lieutenant Vaporwave Eagle is my coding practice villager, so I can try to learn CSS and code nicer pages in the future. Please let me know if it's too abhorrent for the site, and I'll willingly delete it.
Villagers
11
Comments
40