Viewing Spyromancy's Profile
User ID:
#406
Username:
Spyromancy
Gender:
Genderfluid
Last Online:
11 Nov 2021, 3:09 am
Registered:
1 Jul 2016, 12:01 pm
Profile description
Wishlist
Haunted Zweihander |
Dark Trinket
| Sword of Kindness
Thanks Draos!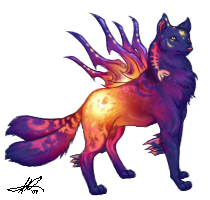 Burn the scorecards, balance out the scales.
We are one wind distracted by our different sails.
Underneath what's detectable with eyes,
Every particle's vibrating with the same life.
♐ / 24 / INFJ
Take solace in Love,
smile boldly at Hate,
know yourself,
and be kind.
Hi there! This is super under construction; it's nice to meet you all!
It's hard for me to keep up with all of this fairy action but
I just want you to know I DEEPLY appreciate it when I
receive things!! You're all so generous and kind!
Visit my art shop here!

Current main interests:
Boku No Hero Academia
Wander Over Yonder
Polygon/McElroys
The Moomins
Mushishi
Gorillaz
Sonic
[Cute Wander pixel by atheris' nephew Aidan! Here's his
shop
!]
Music suggestions:
- Radical Face
- Autoheart
- Low Roar
- Sigur Ros / Jonsi
- Sufjan Stevens (Carrie & Lowell album)
- Sleeping At Last (Atlas Year 1 album)
- The Paper Kites
- Nickel Creek
[
credit
]
Villagers
29
Gallery
8
Legacy Shield of Discourse (250/250)

Gold Snow Festival Candle

x1

Gold Penguin Statue

x1

Snow Festival Candle Fairy

x1

Snow Festival Candy Cane Fairy

x1

Gold Repair Kit

x1

2017 Jack-O-Lantern

x1

Oceanic Ruby

x1
Comments
88